Yes* - KCAI Graphic Design Senior Exhibition
Screenshots of the show's website.
Due to the dreadful COVID-19 pandemic, us seniors had to get creative to figure out how to showcase our work to the public. We decided to hold the 2020 KCAI Graphic Design Senior Exhibition online. We spent the weeks prior to the first nationwide lockdown ideating and iterating different design directions for the show identity. No concept seemed to click for us until during quarantine. We thought it necessary to memorialize our difficult adjustment we had to make during the pandemic by adopting an early 2000's-inspired, digital aesthetic for the brand.
We broke up into multiple teams designated to specific show needs i.e. branding, the publication, marketing, the website, and 3D modeling. Visitors of the website are able to interact with a click-through model of the gallery space and are able to view detailed information about each project. I worked closely with fellow members of the 3D modeling team creating models of people's projects to place within the 3D model of our classroom. The virtual exhibition was featured on AIGA's website.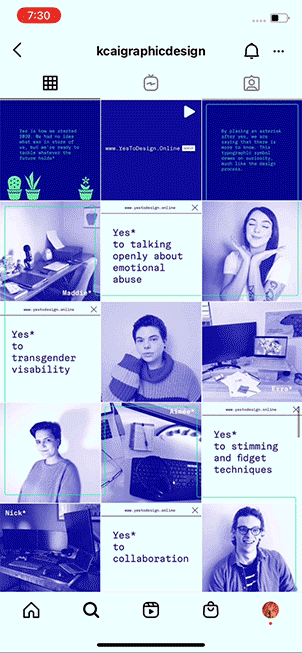 Follow @kcaigraphicdesign on Instagram!